The Irishman Pub + Eatery (May 2021)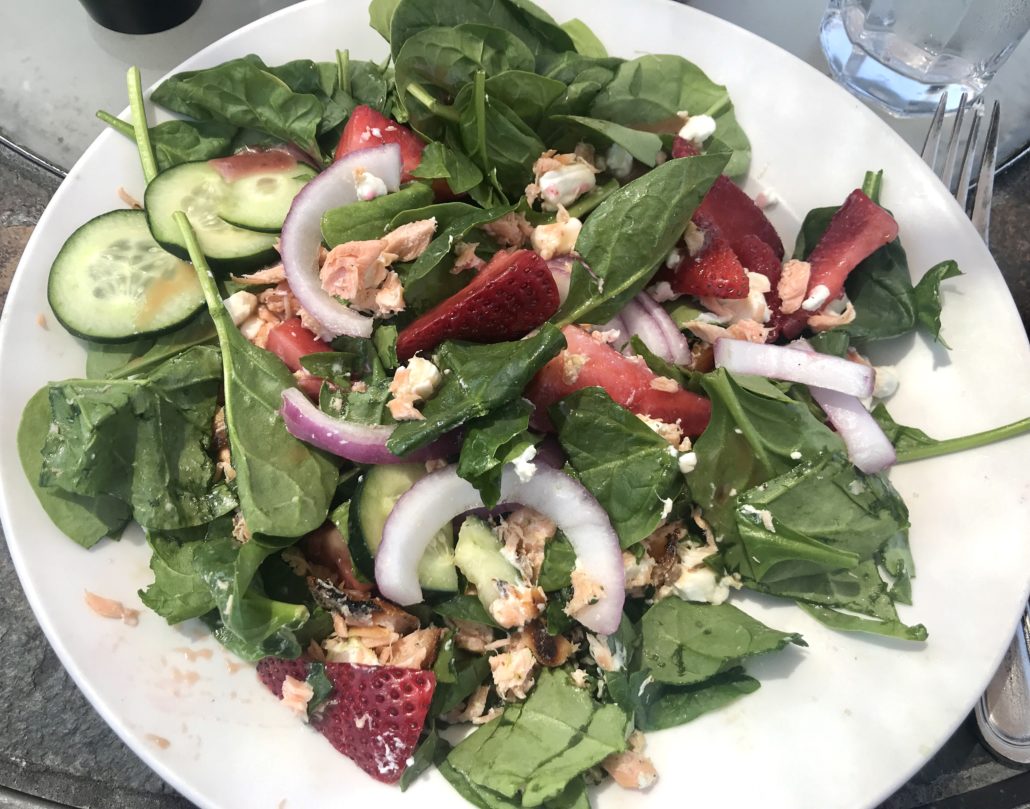 Strawberry, Spinach, Cucumber + Salmon Salad
Masks down! At least while sitting and eating outside at the relaxing Irishman Pub + Eatery located at 5601 Main Street in Williamsville, NY. This Spinach, Strawberry, + Salmon salad was overall yummy with onion, spinach, strawberries, cucumber, flaked salmon and goat cheese. Perfect size meal for me to finish for lunch. A variety of colors, tastes+ textures were satisfying and I loved the balsamic vinaigrette on the side (instead of the recommended raspberry vinaigrette). Here's a breakdown of the salad:
Salmon: protein, omega-3 fats, high in B vitamins, potassium, and other benefits (try to ask if wild caught or farmed)
Goat cheese:protein, fat, calcium and other nutrients (copper, phosphorus, and B vitamins)
Spinach: Iron, calcium, vitamin K1, C + other nutritents
Onion: Vitamin C, B6, potassium and other nutrients, antioxidants
Cucumber: Potassium, Vitamin K, +other antioxidants
Strawberries: Fiber, vitamin C + potassium
When I order food, I am looking for (1) deliciousness (2) nutritional density (3) high source of pescatarian/Mediterranean protein, (4) lower unsaturated fat (5) low sugar (6) higher fiber
I would totally recommend the Irishman and this great salad. I look forward to returning to try some of the other healthy and delicious choices! EAT WELL BUFFALO!